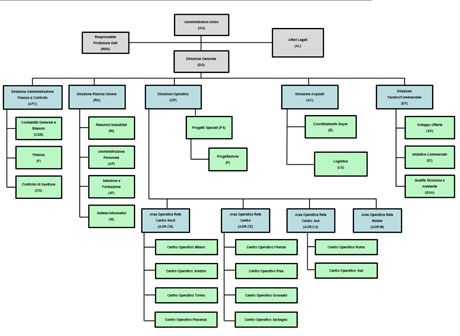 Organization
Sittel has its own organization chart, also according to ISO9001:2008 certification; the company organization is hierarchical as shown in the following figure. In May 2013, our management was changed; now the company is leaded by a new CEO whose wide and long-lasting experience in big companies could bring new energies to the company. New management is also thought to face market, every day becoming more competitive, to increase our speed in response to our customers and to bring more efficiency inside the company. According to ISO9001:2008 recommendations, our organization should be revised periodically. Our organization is based on a two level layer of responsibilities: - Headquarter - Operations. Headquarter provides coordination, management, guide-line definition, control of various offices and branches. Operative Local Branches called "Filiali" are charged of the management of contracts and tasks into their own regional area.
Local Branches are peripheral sites placed around the country; their location is written in the following list: Turin (TO), Rogolo (SO), Piacenza (PC), Florence (FI), Grosseto (GR), Rome (RM), Cosenza (CS), Monastir (CA), Muros (SS), Nuoro (NU).
Local Branches has to organize and manage all the works assigned inside their own area, acccording to our company contracts. Each of them is assigned to a chief (FL) who leads a staff consisting of some Technicians (AT) in charge of work management, measurement and control, some employees for accounting and supply chain management, one warehouse manager and workmen. Workmen are oganized in teams whose number depends on the activity assigned to them; most of them can handle different tasks in order to widen the availability of workforce depending on work assignement to the Local Branch and to allow the management of sudden peaks of work.